Europe's Money-for-Migrants Scheme Is Buying Human Rights Abuses in Tunisia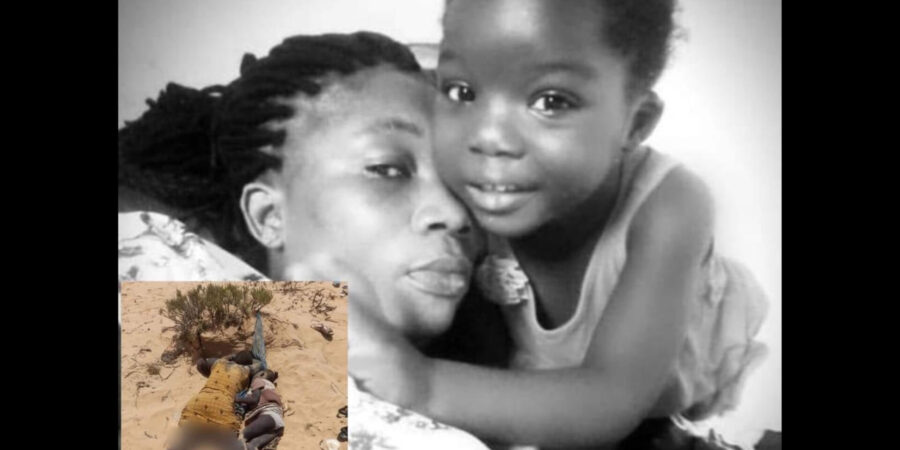 The EU inked a deal worth an estimated 1 billion euros with Kais Saied, who recently jettisoned hundreds of Black migrants into the Sahara, where several died
he baby is 4 or 5 months old — the age where they're still a bit floppy as they balance on your hip — and wearing pink, footed pajamas. The man holding her is fighting a losing battle trying to keep a sunhat on her head as she fusses and fidgets, while three men in desert fatigues approach them, hands outstretched with bottles of water to pour on her scorched brow.
"I swear to God," one of them, a Libyan border guard, says into the camera while the baby cries, "what kind of state is this? It is 50 degrees [122 degrees Fahrenheit] out here, and there are little ones! Tunisia, where are you? Where are you?" he rails, exasperated.
He points to a GPS handset, glitching in the heat, which shows their position: the militarized stretch of the Sahara that lies between the two countries, where for the past several weeks, Tunisian security forces have been rounding up Black Africans who were living in the port city of Sfax, nearly 200 miles away, and abandoning them without food, water or options.
Last week, Libyan border guards found the body of 30-year-old Fati Dosso face down in the sand near a small gnarled shrub, the body of her 6-year-old daughter, Marie, curled up beside her. Dosso, who was Ivorian, and her husband had lived in Libya for several years before leaving earlier this month for Tunisia in search of an education for their daughter, according to Refugees in Libya, a nongovernmental organization. It was ill-fated timing. The family was pushed back into the desert toward Libya as part of a continuation of Saied's targeted campaign against sub-Saharan migrants, which began in March and has swept up hundreds of migrants, refugees and asylum seekers.
Twelve other people are known to have died of heatstroke or thirst, including at least two more young children; hundreds of others are still waiting to be rescued. Meanwhile, European Union leaders have been glad handing Tunisian President Kais Saied as they inked a multimillion-dollar deal to keep migrants from coming to European shores.
This past Sunday, Giorgia Meloni, Italy's far-right prime minister, hosted Saied and a number of other leaders from around the Mediterranean basin for a summit on migration in Rome. While she heralded the conference as a chance to initiate "wide cooperation to support development in Africa," the immediate objective was clear: stop the flow of migrants coming to Italy from Tunisian and Libyan shores.
Meloni campaigned on the issue, and the pressure to deliver has increased as ever more migrants make the treacherous crossing from Tunisia, which this year surpassed Libya as the main jumping-off point for the journey. Her ambitions hinged on persuading partners on the southern shore of the Mediterranean to play along, and Saied, whose politically vapid administration is quickly running out of options to shore up a flagging economy without instituting painful austerity measures, was in the market for new partners himself. He had been drumming up anti-immigrant sentiment at home and, it appears, recognized a kindred spirit — with access to deep pockets — in Meloni. If the EU wanted Tunisia to play border guard, they would need to pay up.
And so, over the course of July, Meloni, along with outgoing Dutch Prime Minister Mark Rutte and European Commission President Ursula von der Leyen, who dubbed themselves "Team Europe," made multiple trips to Carthage to cajole Saied into taking cash in exchange for stopping boats. Saied, normally stone-faced and stoic, basked in the legitimacy-granting attention, smiling widely for the news cameras at the press conference announcing the deal while continuing to rail against Black migrants who he says are part of a conspiracy to change the demographic makeup of Tunisia.
Saied's persistent rhetorical focus on Black migrants who use his country as a departure point for Europe also serves to obscure a crucial fact: Thousands of the migrants the EU is hoping to keep at bay are, in fact, Tunisians leaving their own country in search of opportunity across the sea. Last year, more than 16,000 Tunisians made the crossing to Italy, according to state figures. Several thousand more traveled via air to Turkey, then overland through Serbia and into the EU.
The memorandum of understanding that "Team Europe" signed is at once expansive and vague. There are sections on macroeconomic stability, trade and investment, the green energy transition and people-to-people contacts, but the main focus of the deal, Rutte said, is migration. Human rights appears once, and briefly, in the statement.
The full monetary details of the agreement have yet to be revealed, but in June von der Leyen said the commission was considering up to 1 billion euros in support; under the inked deal, Saied's administration will receive 100 million euros to improve border management, search and rescue efforts, and anti-smuggling measures. Von der Leyen called the deal a "blueprint for similar partnerships" across North Africa.
This isn't the first time Europe has made such a deal. In 2016 the EU signed a similar agreement with Turkey in an attempt to stop Syrian, Iraqi and Afghan asylum seekers crossing to the Greek isles. Under the deal, Turkey would make every effort possible to stop boats leaving its shores and agree to take back those who landed irregularly in Greece; the EU would pursue a visa liberalization plan for Turkish nationals, and the Turkish government was given a handsome 6 billion euros for its trouble.
But Saied, unlike Turkish President Recep Tayyip Erdogan, is not a predictable partner with a finely honed political machine, and the question remains whether he has the will or even the capacity to make good on the deal. After months of negotiations, last fall his government released the terms of an agreement with the International Monetary Fund for a much-needed $1.9 billion loan — terms that Saied later rejected as "diktats" from abroad. While the current deal with the EU comes with fewer strings than the IMF loan, it does not come with the same benefits that Turkey enjoyed in 2016: restrictions are only increasing for Tunisians trying to obtain visas to EU countries, and thousands of them will be swiftly repatriated home if they manage to make the crossing to Italian shores.
One thing is clear: Under Saied, money from Team Europe will be used to perpetrate human rights abuses. The Tunisian security forces, for which the deal provides direct support, are already responsible for the deaths of migrants.
The image of Fati Dosso and Marie circulated by the Libyan border patrol (who are not immune to human rights abuses against migrants themselves) is devastating and recalls the heartbreaking photographs of Alan Kurdi, the Syrian toddler who drowned en route to Greece in 2015. Marie's head, with immaculately braided hair, is tucked under her mother's arm; her little hands clutch a blue scarf Dosso had tried to fashion into some shade. The agony of their poses conveys the desperate pain of their final moments.
Each drowning death on the Mediterranean is a tragedy. But Fati and Marie were not migrants who risked their lives on the sea, and lost. They were victims of state violence, from a state that is now receiving legitimacy and funding from the European Union.
https://newlinesmag.com/spotlight/europes-money-for-migrants-scheme-is-buying-human-rights-abuses-in-tunisia/